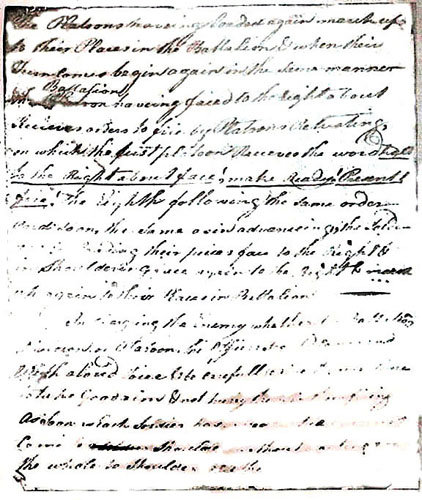 The Platoons having loaded again march up
to their Places in the Battalion & when their
Turn comes begin again in the Same manner
(Each) Battalion having faced to their right about
Receives orders to fire by Platoons Retreating
on which the first platoon Receives the word
(t)ight
to the Right about face & make ready! Present
fire!
The Eighth following the same order
and so on, The Same as in advancing the (Soldiers)
(illegible) loading their pieces face to the Right &
in the Shouldering face again to the Right & march
up again to their places in Battalion-----------


In charging the Enemy whether by Battalion,


Division, or Platoon, the Officers (illegible)
With a loud Voice & be carefull (illegible) time
To take good aim & not (hurry the soldier) firing
As Soon as Each Soldier has (illegible)
Come to ---------- Shoulder (illegible)
The whole to Shoulder (illegible)
Photocopy and transcriptions taken from xeroxed materials in the Jacob Purdy House application for the National Register of Historic Places. Uncertain words or letters placed in parentheses. Order documents 2 and 3 unclear. Pages are possibly missing.